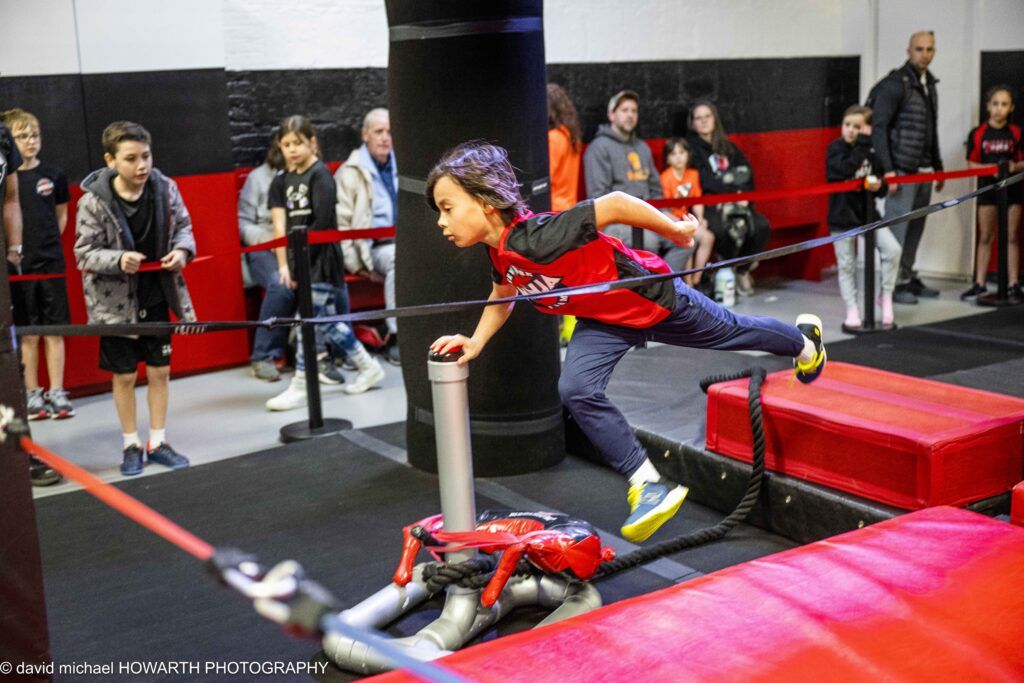 HIT A BUZZER IN A COMPETITION!
World Ninja League Season IX Competitions
TIER 1 FLOW COURSE SUNDAY DECEMBER 31
Click on Division to Register (Kids-Teens Only)
Sunday, December 31
Happy New Year! (You'll be home early)
10am Kids
12pm Mature Kids
2pm Preteens
4pm Teens
TIER 1 FLOW COURSE MARCH 9, 10
We will be opening registration in 2024. This comp will have small wave caps. Any waitlisted athletes will be prioritized by Northeast athletes who have not yet qualified in their home region.
Saturday March 9
1pm Elites
2:15pm Adults
2:15pm Masters
3:30pm Young Adults
6pm Teens
Sunday March 10
1pm Kids
2:30pm Mature Kids
5pm Preteens
More competitions at our Brooklyn Ninja location:
Friday December 29, Saturday December 30 -Tier 1
PLEASE NOTE: Not all divisions are being hosted at every comp since we have arranged to share weekends with other ninja gyms in the area hosting competitions.
_____________
STUDENTS: ARE YOU SERIOUS ABOUT NINJA? ASK US ABOUT TEAM!
Team Try Outs will be held December 9th 2023 at 6pm for the second half of the ninja season for a few more spots on team.
Ninjas may try out for Team after having completed at least one semester of our Advanced program. Basic skill requirements are 10′ Warped Wall (or close), 5′ lache (or close), basic ring, grip, trapeze, balance, and agility technique. Skills and overall fitness level will be assessed at tryouts.
If your ninja is accepted to Team, a contract is required.
Practice Schedule for 2023-24 Season:
Kids/Mature Kids Divisions Practice: Wednesday 6pm-7:30pm + Saturday 2pm-3:30pm
PreTeens/Teens Divisions Practice: Mondays + Thursdays 7pm-9pm

Young Adult, Adults, Elites divisions have open practice on Wednesdays 7:30pm-9pm + Fridays 7:15pm-8:45pm; no contract required.
Kids (Age 6-8)
Mature Kids (Age 9-10)
Preteens (Age 11-12)
Teens (Age 13-14)
​Young Adults (Age 15-17)
Adults (18+)
Elites (15+)
The ninja's age on January 1, 2024 will determine their WNL division.
Team Contract Requirements Include But Are Not Limited To:
2 mandatory practices per week
Minimum of 8 WNL competitions per season (Sept-April)
Wearing NYC Ninja Team shirt at all competitions
Flat rate monthly payments – no prorating, no make ups
Commitment to the sport of ninja, which includes home conditioning and fitness practice
Understanding rules of the World Ninja League
____________________
Before registering for any World Ninja League competition, all competitors must:
1.  OBTAIN A WNL ATHLETE ID
2.  SIGN A WNL WAIVER
3. Determine your division:
Kids (Age 6-8)
Mature Kids (Age 9-10)
Preteens (Age 11-12)
Teens (Age 13-14)
​Young Adults (Age 15-17)
Adults (Age 18-39)
Masters 40+
Elite 15+ (Tier 1 only)
The ninja's age on January 1 will determine their WNL division.
SIGN WNL WAIVER
GET MY ATHLETE ID